Weekend Projects
Make a vase and table lamp from things you find around the house.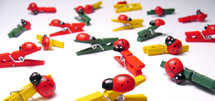 Easy Ways To Save When Decorating Your Home
Beautiful design ideas.
Handy Craft Projects Your Children Will Love
Keep them busy this summer with some easy diy projects they will enjoy.
Grow Your Own
Simple vegetable gardening - get healthy, enjoy food and have fun!